Pedalock... Who We Are
Pedalock was established in 2010. The founder of Pedalock is a practicing musician with over 30 years of guitar playing experience, both live and in studio. After years of traveling around from performance to performance, he noticed that his effect pedals were the number one item in his arsenal that he had to maintained the most. With effect pedals falling off of the Velcro stick tape, destroying the base of his effects pedals, and ultimately failing completely, he searched for a solution.
Pedalock... The Solution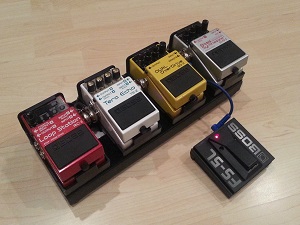 With the aid of 3D modeling, CNC machining, and highly trained quality control team, we are able to reduce waste costs to improve production rates as needed by the industry and our customers. Our cutting edge injection molding process insures a perfect fit for every Pedalock unit produced. Every Pedalock unit is strictly monitored for superior quality at the time of manufacturing. We pride ourselves on 100% quality workmanship with a return rate of 0%.
Pedalock secures your favorite guitar effects pedals to suit your needs as a practicing musician. Pedalock uses the latest in today's technology to design and engineer a top quality product that will last a lifetime.