Welcome to Pedalock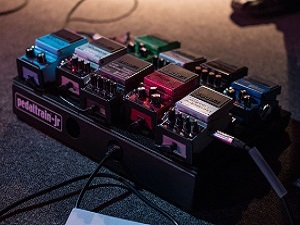 The Pedalock guitar effects pedal mounting unit is the perfect solution to securing your favorite guitar effects pedals to a custom pedalboard for preservation, ease of access, and security while maintaining complete uninterrupted functionality.
Features of Pedalock
The Pedalock secures effects pedals to a pedalboard by allowing two crucial means of fastening. Not only can you use the most common application of Velcro, hook and loop system, it also has rigid mounting holes that will allow a permanent fixed position by locking the unit down with the use of fasteners.

The Pedalock guitar effects pedal mounting unit also secures the effects pedal within itself by simply inserting and locking it in to place. This will firmly lock the effects pedal, keeping it safe during use and transport.


Specifically designed for your favorite effects pedal, the Pedalock will save you time and money by protecting your effects pedals, cables, and cords from the harsh effects of road usage.

Made from Polycarbonate ABS plastic, this unit is extremely strong and durable under the toughest conditions. Don't be fooled by the plastic material, THESE BABY'S ARE TOUGH! Polycarbonate ABS plastic has been used in many applications by NASA. This material has an outstanding adhesion acceptance of Velcro tape hook and loop system.

A very sleek design allows you to place pedals close to each other without interference. This is perfect for your custom pedalboard builds. No longer will your effects pedals come dislodged and flop around in your pedal case or rack system. Another important feature of Pedalock is that it eliminates the foam base and manufacturer label from being ripped off by failing adhesives.

All Pedalock products are made in the U.S.A.